Add to Recipe Book
Hello Everyone!
Knafeh is a very delicious Turkish dessert which is especially famous in Hatay region. It's made with kataifi and cheese with a beautiful consistent syrup. You may be suspicious from a dessert made with cheese or you already ate Knafeh before and you know very well how beautiful it is. You can make your Knafeh easily at home. Just try it and you will love love love!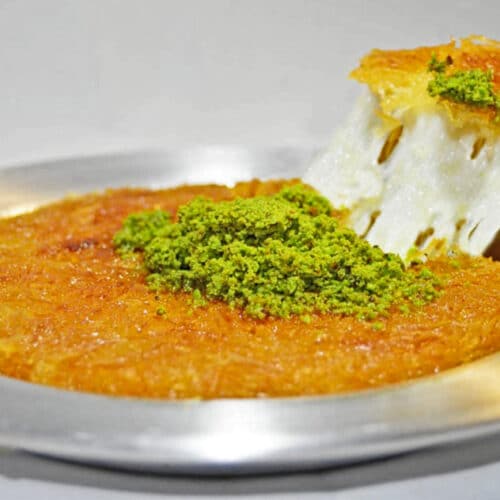 Knafeh - Turkish Kunefe
Try this delicious traditional turkish dessert recipe Knafeh
Ingredients
For the knafeh:
250

gr.

(1/2 lb.) kataifi

150

gr.

(5,3 oz.) butter

1

tbsp.

Grape molasses

250

gr.

(1/2 lb.) mozzarella cheese, grated
For the syrup:
2 1/2

cup

sugar

3

cup

water

4-5

drop fresh lemon juice
Instructions
First of all start making your syrup. You need to use cold syrup and hot knafeh so your dessert can absorb the syrup.

Add your 2 1/2 cup sugar, 3 cup water in a pot. Dissolve the sugar in water and boil your syrup mixture.

Add 4-5 drops of fresh lemon juice when it's boiled and leave it to cool down.

Put aside 50 gr. (1,8 oz.) of your butter, slice them in cubes and wait until it gets to room temperature.

Add 1 tbsp. Grape molasses to your room temperature butter and stir very well until it combines.

Pull to shreds your 250 gr. (1/2 lb.) kataifi and slice as 1 cm. (1/2 inches) width.

Melt your leftover 100 gr. (3,5 oz.) butter pour it on your kataifi and stir very well until it combines.

Take a thick glass circle baking dish resistant to fire and spread butter + grape molasses mixture everywhere.

Pour half of your kataifi on your baking dish and compress it very well with a bottom of a glass.

Spread your 250 gr. (1/2 lb.) grated mozzarella cheese.

Pour the rest kataifi on your cheese and compress it again.

Take your glass baking dish on a stove with a low heat.

Cook bottom side for about 6-7 minutes, turn it over and cook also other side for 6-7 minutes.

Turn of your stove, pour cold syrup on your hot dessert and your knafeh is ready.

Serve it hot.
What do you think about that? Have you tried knafeh recipe yet? Please comment and share your experience. Or are you craving for another Turkish food that you want its recipe from me? You can always contact me from here.
Enjoy!