Add to Recipe Book
Hello Everyone,
Red Lentil Soup is one of my favorite soup. Try this easy, delicious and fulfilling recipe and you will love love love!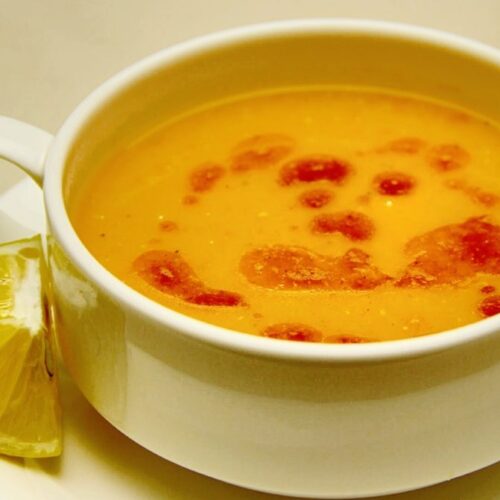 Red Lentil Soup
Try this delicious traditional turkish food recipe Red Lentil Soup
Ingredients
1

cup

red lentil

1

onion, finely chopped

2

tbsp.

butter

1

potato, finely chopped

1

carrot, finely chopped

1/2

tbsp.

tomato paste

4

cup

water (1 liter)

1

tsp.

black pepper

1

tsp.

ground red pepper

1/2

tsp.

ground cumin

Salt
Butter sauce (optional):
2 tbsp. butter

1 tsp. ground red pepper
Instructions
Heat 2 tbsp. butter on your medium pot, add your one chopped onion and saute until tender.

Add 1/2 tbsp. tomato paste to the onions and saute a little more

Add 1 cup of red lentil, 1 chopped potato, 1 chopped carrot to your pot. Pour 4 cups of water on, cover a lid on your pot and cook your soup until the vegetables soften 30-40 minutes.

When the soup is cooked, turn off your heat and stir your soup with your hand blender until it gets very smooth.

Add your 1 tsp. black pepper, 1 tsp. ground red pepper, 1/2 tsp. ground cumin, salt and stir until combined. At this point you can add some more water (about 1/2 - 1 cup) of water if you want the consistency of your soup thinner.

Make your butter sauce in another sauce pan and pour onto your red lentil soup.
Don't forget to squeeze some lemon while eating your Red Lentil Soup because they go very well together : )
Enjoy!