Add to Recipe Book
Hello Everyone!
"Manti" aka Turkish Ravioli is some kind of boiled dumplings served with youghurt and butter sauce. It's a very popular dish in Turkey. If you can make "Manti" it means that you really are the chef of your kitchen. I will admit, it will be tough and tiring. But once you eat turkish ravioli, you will love love love!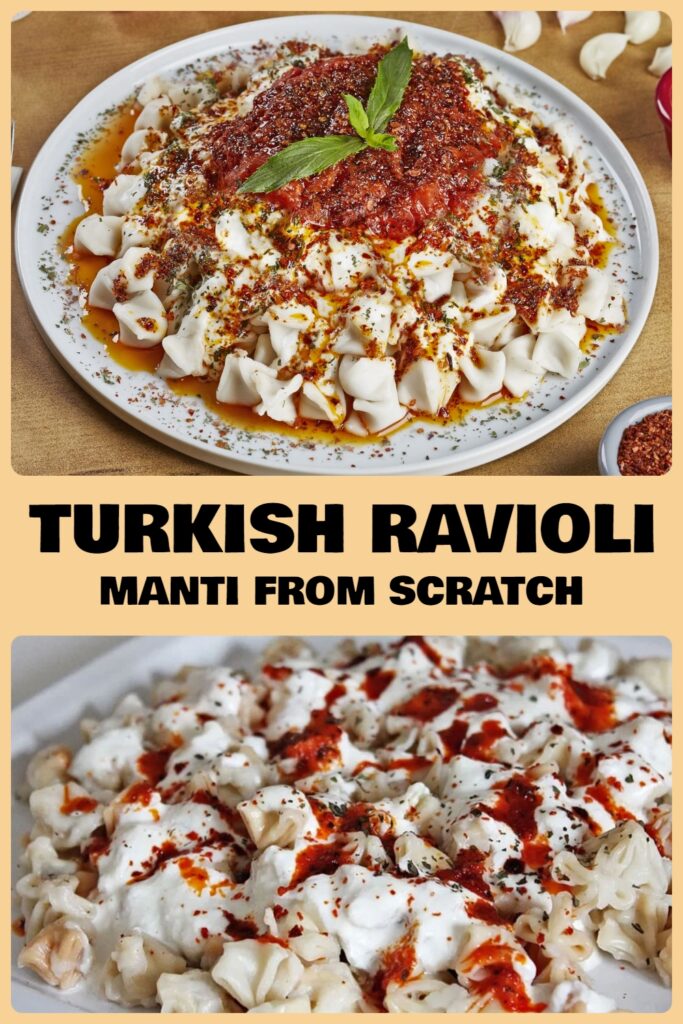 Manti Recipe
Turkish Ravioli
Try this delicious traditional turkish food recipe Turkish Ravioli
Ingredients
For the dough:
3 cup all purpose flour

1 cup warm water

1 tsp. salt

1 egg
For the filling:
250 gr. (0,6 lb.) ground beef

1 medium onion, grated

Black pepper

Red pepper flakes

Salt
To serve:
Plain youghurt (you can add some garlic to it if you like)
For the butter sauce:
Butter

Tomato paste

Red pepper

Dried mints
Instructions
The dough:
Take your 3 cup all purpose flour to a large container. Add your egg, 1 tsp. of salt and start kneading while you are adding the warm water little little. Your dough should be neither hard nor soft. It should have earlobe consistency.

You can also make your dough in your stand mixer with a dough hook. Just add the water by little little and don't let the dough would be to hard or soft.

Divide your dough in three, cover them with some towel and let it rest for 20 minutes.
The filling:
Take your 250 gr. (0,6 lb.) ground beef, 1 grated onion, black pepper, red pepper flakes and salt in a small bowl and knead a little until combined.
Preparation: (please see below video to visualize it better)
Roll each dough pieces separately until their thickness will be 1/13 inch. (2 mm.)

Cut 3/4 inch. (2 cm.) squares from your dough.

Put one pinch of your filling to all squares.

Seal all the squares from their corners. You need to do it before the dough gets dry otherwise it won't stick.
Cooking:
You don't need to cook all turkish ravioli right away. You can keep them in your freezer for about a year.

When you will cook, boil some water on your pot, add some salt to your water and boil your "manti" for about 20 minutes.
Butter sauce:
Make your sauce while boiling your "mantı". Heat your butter in your pan. Add your tomato paste, red pepper, dried mints and fry it a little. Don't forget to observe it because it can burn very quickly.
Serving:
Strain your turkish ravioli in a plate. Put some plain youghurt (or youghurt with garlic) on it, pour your sauce and voila! It's ready!
FREQUENTLY ASKED QUESTIONS:
Q: What is Turkish Ravioli (Manti)?
A: Turkish Ravioli (Manti) is a very delicious Turkish Meal made with meat some kind of pasta dough and ground meat.
Q: How to make Turkish Ravioli (Manti)?
A: When you follow the recipe and tips carefully, you will find out that it is very easy to make this dish.
You can also buy your turkish ravioli directly from some local stores.
What do you think about that? Have you tried the Turkish Ravioli (Manti) recipe yet? Please comment and share your experience. Or are you craving for another Turkish food that you want its recipe from me? You can always contact me here.
Don't forget to follow us on Pinterest, Instagram, and YouTube to be notified of the recipes as they are published.
Enjoy!