Add to Recipe Book
Iskender Kebab is one of my favorite food. Today we will be making the most beautiful Iskender Kebab (iskender kebabi.) I can tell you came pretty close to this recipe if you regularly following our website and practicing our recipes. If you are a fan of Turkish food, I'm sure you are familiar with Iskender Kebab. The very famous food in the Bursa region Turkey is made of Turkish Meat Doner, Turkish Pide Bread, and a beautiful tomato sauce. If you are a loyal follower of the Turkish Food Chef, you can just take out your doner and pide bread from your freezer and prepare this dish by just cooking a tomato sauce. Please prepare to spoil your taste buds. Just try it and you will love love love!
ISKENDER KEBAB RECIPE
If you are looking for Iskender Kebab at home, you can see the recipe below: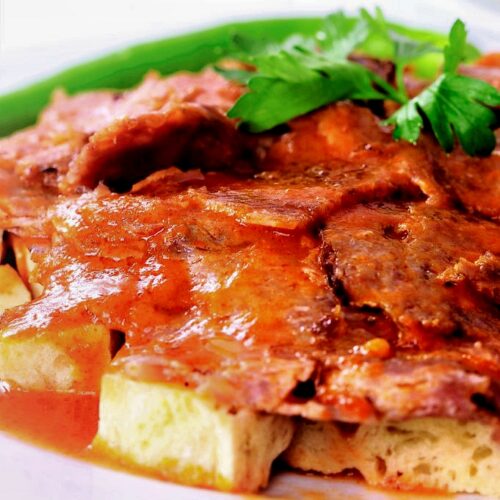 TURKISH ISKENDER KEBAB – ISKENDER KEBABI
The very famous food in the Bursa region Turkey is made of Turkish Meat Doner, Turkish Pide Bread, and a beautiful tomato sauce.
Ingredients
FOR THE DONER:
Half a kilo of ground beef

1

medium onion

2

tablespoons

of plain yogurt

1

teaspoon

of salt

Ground red pepper

black pepper, cumin
FOR 2 PIDE BREADS:
2 1/2

cups

warm water

not hot

Half a pack of fresh yeast or 1 pack of dry yeast

about 1 tablespoon

1 1/2

teaspoons

granulated sugar

1

teaspoon

of salt

5 - 5 1/2

cups

flour

200ml classic water glass
FOR TOMATO SAUCE:
1

tablespoon

of oil

1

tablespoon

of butter

1

tablespoon

tomato paste

1

cup

of grated tomatoes

1

cup

of hot water

3

tablespoons

of ketchup

Salt
TO PLATE:
Butter

Plain yogurt

Rice Pilaf

optional
Instructions
DONER:
Clean the onion and cut it very finely in a food processor.

Add ground beef, plain yogurt, spices, and salt and continue to grind in a food processor.

Continue mixing in the food processor for about 5 minutes.

Take it on stretch film and roll it up well.

Freeze in the freezer for 1 night.

The next day, take it out of the freezer and let it sit for half an hour until it has the consistency to cut.

Thinly slice your still frozen doner.

Throw it directly into the hot pan that you have greased lightly and fry both sides.
PIDE BREAD:
Put water, yeast, and sugar in a suitable bowl and mix until the yeast dissolves.

Add salt and flour.

Knead a dough that sticks slightly to the hand.

At the last stage, you can gather the dough together by lubricating your hand with oil.

Add 5 cups of flour and make a flexible dough as you can see in the video below. (The amount of dough may vary depending on the quality of your flour. If your flour is insufficient, try adding half a glass of flour gradually to achieve the desired consistency.)

Cover the dough and ferment for 45 minutes.

Divide the fermented dough in half.

Open in an oval/round shape on a floured counter.

Place it in a tray covered with greaseproof paper.

Cover and ferment again for 20 minutes.

Meanwhile, heat your oven at 200 °C/392 °F.

Spread yogurt and molasses mixture or scrambled whole eggs on the rising dough.

Shape the edges and center with your fingertips as you can see in the video below. (Shape the pide dough after it rises in the tray, otherwise, the shapes will be distorted while rising.)

Sprinkle black cumin and sesame seeds on it and bake in a preheated 200 °C/392 °F oven until golden brown.
TOMATO SAUCE:
Add the oils and sauté the tomato paste until its smell come along.

Put the grated tomato and hot water on top and boil.

Add ketchup and salt when it is close to taking it off the heat.
PLATING:
Chop your pide bread into small pieces and sauté them in a pan with three tablespoons of butter until the butter is absorbed.

Spread your sautéed pide bread on your plate.

Put your doner on your pide bread.

Pour your tomato sauce.

Put some plain yogurt on the side.

You can pour some more melted butter on it to flavor your food.

Your Iskender Kebab is ready to be served.
Notes
You can serve your meal with rice pilaf, roasted tomatoes, and roasted green chili peppers.
What do you think about that? Have you tried the Turkish Iskender Kebab recipe yet? Please comment and share your experience. Or are you craving for another Turkish food that you want its recipe from me? You can always contact me here.
Don't forget to follow us on Pinterest, Instagram, and YouTube to be notified of the recipes as they are published.
Enjoy!