Add to Recipe Book
Hello Everyone,
Are you ready to face with some challenge? Looking at the picture, I know you think that this meal will be very hard but you'll see, it isn't. It will only consume some of your time. "Etli Yaprak Sarmasi" aka stuffed grape leaves is one of the most popular meals in Turkey. You know the deal: you will love love love!
There is two kind of stuffed grape leaves. As a hot meal (this recipe) and as a cold meal with olive oil. Stuffed grape leaves with olive oil will also be avaible for you on our website.
Don't worry, we will do it step by step : )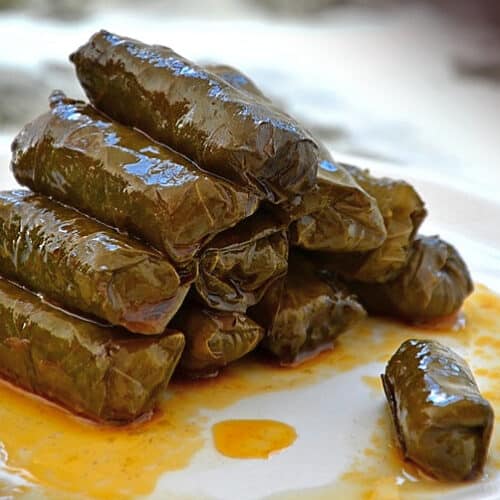 Stuffed Grape Leaves
Try this delicious traditional turkish food recipe Stuffed Grape Leaves
Ingredients
1

jar grape leaves

1

cup

baldo rice

250

gr.

(0,55 lb.) ground beef

2

grated tomatoes

3

onions, finely chopped

1/2

cup

parsley, finely chopped

1/2

tbsp.

pepper paste

1/2

tbsp.

tomato paste

1/4

cup

vegetable oil

Salt

Black pepper

1

tsp.

beef bouillon
For the sauce:
1

tbsp.

tomato paste

2

tbsp.

vegetable oil

1

tbsp.

dried mints

1

cup

water

1

fresh lemon juice
Instructions
Leave your grape leaves in cold water for couple of hours otherwise it will be too salty.

Leave your rice in warm water (almost hot) for 20 minutes then strain.

Take your 250 gr. ground beef, 1 cup of washed rice, 2 grated tomatoes, 3 finely chopped onions, 1/2 cup finely chopped parsley, 1/2 tbsp. pepper paste, 1/2 tbsp. tomato paste, 1/4 cup vegetable oil some salt and some black pepper in a large bowl. Knead it with your hands until all the ingredients combine very well. Your mixture is ready : )

Grab your dutch oven, cover the bottom with grape leaves.

Take on of your grape leaves, put 1 tbsp. of your mixture at the bottom of it, fold the edges and roll. You can see a detailled introduction on our below video. Align the rolls to your dutch oven one by one without leaving any space. If you leave spaces it will bloat and fall apart while cooking.

Take your dutch oven to a medium heat. Melt 1 tbsp. beef bouillon in 2 cups of water and add it to your stuffed grape leaves. Cover the lid and cook about 35-45 minutes.

While cooking the stuffed grape leaves, prepare your sauce. Heat your 2 tbsp. vegetable oil in a pan. Add 1 tbsp. tomato paste and 1 tbsp. dried mints, saute about 1-2 minutes. Take it off from the heat, add 1 cup of water and 1 fresh lemon juice, stir until dissolved.

Take your stuffed grape leaves off from the heat after they are cooked. Hover your sauce over your stuffed grape leaves, cover the lid and rest it for about 1 hour.
Your stuffed grape leaves are ready : ) You can serve it with some plain youghurt.
Enjoy!