Add to Recipe Book
Hello Everyone!
I am aware of your interest in the Shakshuka recipe and thank you very much for your interest. Today we will do wonders again with eggplant. You will see, the love of eggplant will spread all over the world with us. Baba Ghanouj is a very delicious appetizer made with roasted eggplant and roasted peppers that you cannot get enough of. You can feel the flavor in your palate, especially when you serve it with your red meat dish. Just try it and you will love love love!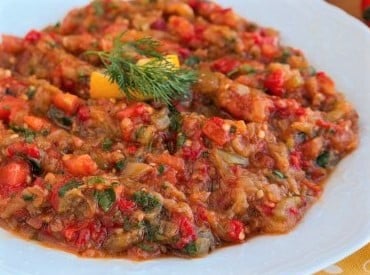 Babagannus - Baba Ghanouj
Try this delicious Babagannus - Baba Ghanouj recipe!
Ingredients
5

eggplants

2

red peppers

3

green peppers

1

medium onion

2-3

cloves

of garlic

2 to

matoes

1

tablespoon

of pepper paste

4-5

tablespoons

of olive oil

1

tablespoon

of oil

Black pepper

Red pepper

Salt

Lemon juice
Instructions
Roast 2 red peppers and 5 eggplants, peel and crush them.

Finely chop you medium onion and fry in a pan where you add a little oil.

Add 1 tablespoon of pepper paste and black pepper, red pepper, salt spices.

Mix onions and crushed eggplants, finely chopped tomatoes and parsley in a deep bowl.

Add lemon juice, olive oil, salt and crushed garlic, mix.
What do you think about that? Have you tried baba ghanouj recipe yet? Please comment and share your experience. Or are you craving for another turkish food that you want its recipe from me? You can always contact me from <a href="https://turkishfoodchef.com/contact-us/">here</a>.
Enjoy!